8 Years of Success: Link Crew at West High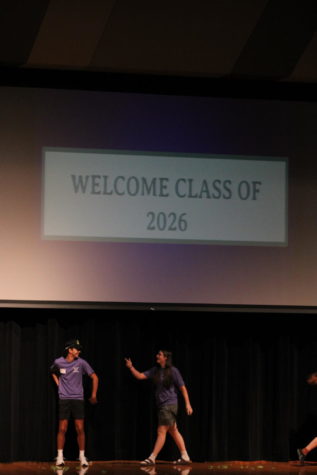 Link Crew is a huge event at West High and it is super beneficial for incoming students. A lot of people can relate to having a fear of going to a new school, especially with a district of 10,000 students! It can be extremely nerve-racking but West Highs' goal is to help our freshmen feel comfortable and feel like they aren't being crowded while they are walking the halls and getting to their next class smoothly. Freshmen are welcomed with open arms here at West High and everyone is here to help, we want everyone to be comfortable and able to ask questions if you are lost. Everybody can relate to being lost or scared on their first few days of school but here at West, there are teachers everywhere to help you.
The main goal of Link Crew is for upperclassmen to help freshmen feel comfortable in High School. They do this by doing lots of learning and trust-building activities. Mr. Cassidy of West High is an English teacher and coach. He has been in charge of Link Crew for 8 years now. He loves planning and helping incoming students get comfortable in our school. Ms. Wass, Mrs. Hottle, and Mr.Ortman also help with planning Link Crew. This year was the second year of running the program on the freshman's first day of school. Doing this on the first day of school has been very beneficial, especially since the Freshmen are the only ones in the building which helps to make them feel more comfortable and build relationships easier.
This year was a tough year with the main gym being remodeled so a lot of classrooms had to be used for meeting rooms for orientations. With the help of many staff and students, Link Crew had a very successful year. Many students would agree that Link Crew is a huge benefit in getting incoming freshmen excited for High School, from dances to fundraisers year-round. We as a school want to get students excited and comfortable in West High where they will hopefully be spending their next 4 years.
When Mr. Cassidy was asked why he thought Link Crew went successful this year he said "I feel like everybody adapted very well with us not being able to use the gym so we had to get used to using the auditorium. Everyone had a great attitude which made this year's group even better."