2022 Football Senior Banquet
With the end of the 2022 football season, the Wahawks got together for one of their last times. The varsity team spent the night celebrating how far the seniors have come in their long journey.
On Thursday, November 17 the Wahawk varsity team got together at the Moose Lodge for the last time ever as a group. With high emotions from parents and players themself, it was an outstanding event held. The first 30 minutes of the banquet consisted of a social time so all the parents, coaches, and players could settle in and chat. One of the player's mothers printed hundreds of pictures for the players and family members to take for the memory of the awesome season the Wahawks had. After the social period, the players and family all sat down for the ceremony to begin.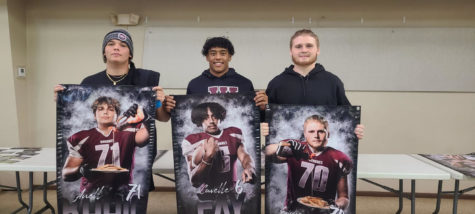 Janelle Westemeier started the night off with an amazing speech which lead to each player and parent going to the front of the
stage to collect their gifts and give short speeches. The Wahawks have a multidecade-long tradition where each senior gets an underclassman paired with them and they get them a gag gift of something that represents them. Each player as well got a doll that symbolized them, the doll had the cleats they wore, their last name, and their number on them. Along with the doll, the Wahawks got a blanket and a mug with their last names and football number.
As seniors were called up, they had the option to give words of encouragement and words to advice to the underclassmen to carry with them through their journey as a Wahawk. Senior Evan Schaver thanked all his coaches and teammates then gave a speech to the underclassmen, He told them "Enjoy it, it is going to go by fast. the season did not go how I wanted it to but you guys did make it better, I appreciate it.". Schaver's speech showed how much this team loved each other and how much they will always miss it.