River Battle 2022: Wahawks Defeat East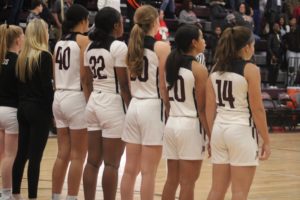 Tuesday November 29th, West took down East High in the iconic River Battle basketball game. At 6pm, the Wahawk girls lined up for the varsity starting introductions. The starting girls included senior Sierra (Cece) Moore (#40), senior Sahara Williams (#32), senior Isabell (Izzy) Lederman (#30), senior Niya Mcgee (#20), and senior Halli Poock (#40).
Williams was the point leader of the game as she gained the Wahawks 20 points. Poock was just two points behind Williams with 18 points throughout the game.
The Wahawks have been defeating the Trojans since 2007, making this their 28th consecutive win according to gobound.com.
West scored 10 points within the first three minutes of the game, taking the lead and not looking back. The Wahawks ended the first quarter with 23 points while the Trojans had 8.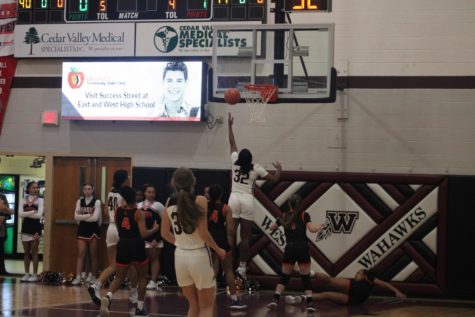 By the end of the second quarter, the Wahawks had scored an additional 17 points while the Trojans scored 4 more, bringing the game to 40-12.
Williams said that for her senior year, this game meant a lot. "It's a rivalry game and a tradition. We have won the last four years so it felt nice to top it off for my last year," Williams said. She shared that though she was a senior, this victory didn't feel more important, "I feel that growing with the team and having fun and making sure my team did well and had fun is more important." Williams reflected on her game by saying that for herself, she was most proud of the accomplishments that not a lot of people have done. For her team, she was most proud of "How hard they work, how dedicated they are and the support that we have throughout the team."
In the third quarter, West went up by another 19 points bringing their score to 59 while the Trojans gained another 3 points, leaving the score at 59-15.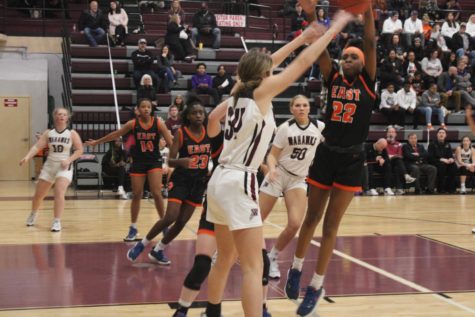 Freshman Allyson Landers (#34), played during the varsity game for the first time in her high school career. Landers said that it was amazing playing in such an iconic game like East v West as a freshman. "This is always such a huge game for West and as a freshman to be out there it was awesome. I loved every minute of it, the girls team has so much talent and it was such a fun game to be able to be a part of," she said. Landers scored 12 points during her first varsity game making her the third highest point scorer for the game.
During the final quarter of the River Battle, the Wahawks scored 12 points while the Trojans managed to score 13 bringing the final score to 71-28.
The Wahawk dance team performed their dance routine "Where da Hood At" during halftime of the girls game. They later took this routine to Des Moines for the ISDTA state competition on Friday December 2nd.