Cooper Paxton Returns to The Mat
After taking two weeks off wrestling due to a broken rib, Senior Cooper Paxton will make his return to the mat at The Battle of Waterloo tournament on Friday and Saturday, December 16th and 17th at Young Arena, in Waterloo. 
During the first wrestling event of the season, the Metro tournament on November 28th, Paxton broke a rib in his second and final match of the night against Columbus Catholic. This match would end with both players injured. This injury for Paxton resulted in him being forced to take two weeks off of wrestling to fully recover in order to return to the mat.
Paxton said the worst part about taking time off was not being able to practice with his team everyday and having to sit out of meets and tournaments. "Every little movement hurts," he says.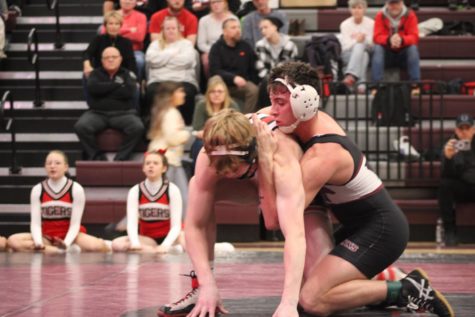 Paxton said that though he missed valuable time with his team, this break was not career ending, "Just a little adversity, nothing major," he said. 
As he returns to the mat, Paxton is most excited to "Be able to practice with the guys everyday again and be able to compete." However, he is most fearful of getting injured again once he returns. 
Paxton predicts the rest of his season to go "Only up from here, there was a little rough start to the season but I learned a lot." He says his teammates and coaches have been helping him through his break by encouraging him to get better before returning and giving him workouts that he was able to do without pain. 
The time he has taken off has taught Paxton a few life lessons, "It reminded me to not take it [wrestling] for granted because it can get taken away so easily," he said. Staying in shape to remain in his weight class has also become a challenge due to the pain working out has caused him, "I've had to fix my diet to lose weight and change my food habits by eating healthier."