Staff Member Of The Week: Jarred Johnston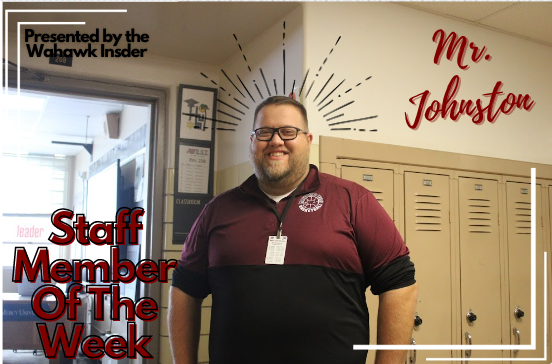 When Jarred Johnston isn't smoking barbecue, pursuing his masters degree, scrolling through the Wahawk Insider or attending college level sports games, he is Mr. Johnston.
Johnston is a football and basketball coach as well as history and C3 teacher at Waterloo West High. On Tuesday, Jan. 17, he was announced staff member of the week during morning announcements. Johnston has been teaching at Waterloo West for three years, and this is his seventh year in education overall.
"
Mr. Johnston has been there for me for about a year or two now and he's never changed. I know if I needed to talk to him right now about life or anything he's going to be there for me."
— Junior, Shiron Morman
Johnston adores his students each and every year. "I enjoy meeting a new set of Wahawks each semester. It is a lot of fun getting to know them, building positive relationships, and watching them grow into young adults. Seeing that growth over a 1-3 year period of time is so rewarding and keeps me coming back," he shared.
Johnston is a wise and knowledgeable coach, teacher, staff and community member. He believes that you shouldn't be afraid of failure. He never wants his students to be afraid of looking silly. "In order to truly grow, failure is necessary. Block out the hate, take risks and have fun doing it." 
Fill out this form to nominate your favorite staff member, just like Mr. Johnston.