Wahawks Defeat 4A Champions, Cedar Rapids Xavier
"It was a great win over a very talented Xavier team," says Dr. Anthony Pappas, the head coach for the girls basketball team after the Wahawks defeated Cedar Rapids Xavier with a final score of 73-50.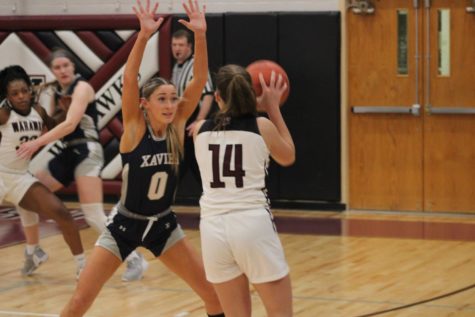 Tuesday, Jan. 17, the Wahawks took on Cedar Rapids Xavier in the Bob Siddens gym at West High. For the 2021-22 basketball season, Cedar Rapids took home the class 4A championship title, making this game for the Wahawks a big one.
During the current 2022-23 season, Xavier was sitting with an 11-3 record prior to the game against the Wahawks, making West their fourth loss of the season. The Wahawks sat with a 12-1 record before the game, Xavier being their 13th win of the season. 
Junior Charlotte Gettman made an iconic return to the court last week against Iowa City High. Playing against Xavier was Gettmans first home game since returning from an medical issue, MIS-C, that affected her heart and lungs. 
"I was so excited to play with my team again, my biggest thing was just making sure I could get back to play with the seniors before they graduated," she said. Gettman says the time she took off changed her whole view and pushed her to be more thankful and grateful for the opportunities she has been given.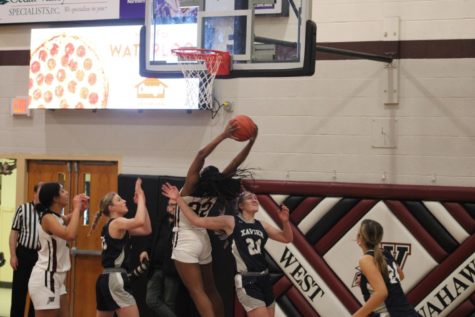 Within the first few minutes of the game, spectators feared the slow start as Xavier took a 3-0 lead in the first two minutes. However, senior Saharah Williams would soon take back that fear, scoring eight points for the Wahawks, pushing the Xavier timeout. West led the game with a 17-12 score at the end of the first quarter. 
Senior Halli Poock secured the Wahawks eight points in the second quarter. This combined with Williams' nine points left the Wahawks with a 13 point lead at the end of the first half of the game with a score of 37-24. 
By the end of the game, Poock had secured 32 total points, a season high for the senior. Williams  brought in a total of 30 points for the Wahawks as well. The Wahawks took down Xavier with a final score of 73-50.