I BELIEVE THAT WE JUST WON: Wahawks Defeat Western Dubuque
"We can be defeated, but we can never be beat," says Assistant Coach Ben Barnett before the Wahawks took on Western Dubuque on Feb. 7th. After losing the previous two games, the boys were relying on this game to be a great one, in hopes of attaining another Wahawk victory.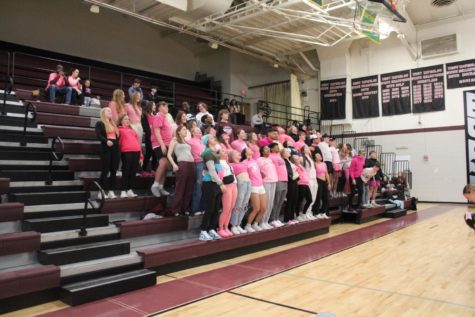 Before the game, Barnett encouraged his athletes to play their hardest through the tough game ahead saying, "There might be moments when you make a mistake, there might be things that you wish you could have done better, but no one can ever beat you, because you know in your heart that you're going to keep going." 
During the 'Pink Out' game, the stands of the Bob Siddens gymnasium saw an increase in student support, a sight that West High has been missing for weeks. Together, the students supported their Wahakws through a back and forth game against Western Dubuque. 
In a back and forth game against the strong defense from Western Dubuque, the first quarter left the spectators on their toes as the two teams put their all into the game. As the lead was tossed between Waterloo West and Western Dubuque, fans prepared themselves for an energetic fight throughout the night.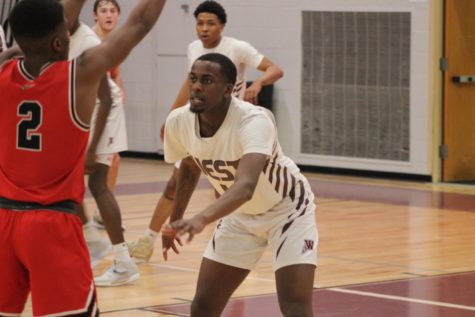 With senior Si'Marion Anderson being the point carrier for the game with 23 points, the Wahawks pulled through with yet another victory. Sophomore Jahlil Manago also had an eventful night as he scored 10 points for the Wahawks. With his strong defense and offense, Manago played a big part in the Wahawk victory. 
Head Coach Cliff Berinobis took his 99th career victory with this win. "We needed this win tonight," he says, after losing the past two games, Berinobis said this victory was important for not only his athletes, but for West High altogether. 
In a triple header against Western Dubuque, freshmen and sophomores also pulled through with victories, ending the night in a Wahwak sweep. Freshman claimed a win with a score of 53-44 and sophomores with a score of 73-55. 
"It's a Wahawk Nation," says junior Tayvon Homolar after West High took down Western Dubuque with a final score of 59 – 52, the Wahawks claiming their 14th victory of the season.