Goodbye Seniors: Girls Basketball Last Home Game
Friday Feb. 10,  the Wahawk girls took on Dubuque Hempstead in their last regular season home game of the season. Hempstead sat with a 1-19 record prior to the game while the Wahawks held a 19-1 record for the season, breaking history with the best regular season record at West High. Since 2006, the Wahwaks have defeated Dubuque Hempstead 12 times, only taking 5 losses.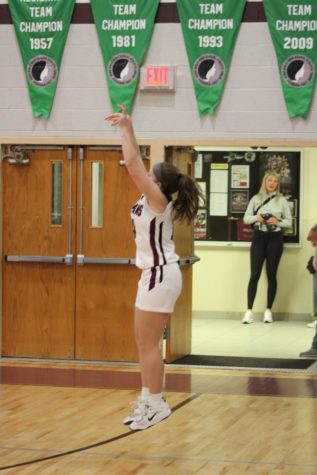 Before the starting lineup of the varsity game, seniors were recognized for their hard work they have put into the basketball program over the past four years. Seniors Halli Poock, Sahara Williams, and Cece Moore have been playing varsity since they were freshmen at West, alongside them, Michelle Darcon, Calia Gladney, Izzy Lederman, Niya McGee and Shatiera Wright. 
In an emotional speech, Head Coach, Dr. Anthony Pappas refers to the senior class of 2023 as the best class he has coached.  "You've come miles as human beings, that is what I am most proud of, which is fantastic," he says, as he prepares his seniors for the last home game of their high school careers. 
Pappas notes multiple extraordinary facts about this senior class. Not only have these girls been ranked top in the 5A class in Iowa for the past four years, but they are also the only group of seniors to attend three consecutive State Basketball Tournaments. Within the past three years, these girls have gained an Elite 8 finish, a Final Four finish, and even a State Runner-up trophy. These girls have also fought their way to the top, bringing West to be ranked nineteenth in the entire nation, a title only a handful of public schools are able to obtain. 
"This is your opportunity to showcase the four tremendous years that we've all been so fortunate to be a part of," says Assistant Coach AJ Cassidy as he gives his final home game speech to his seniors.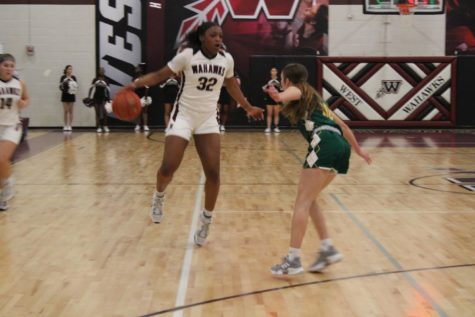 Within seconds of the first quarter, senior Halli Poock scored three points for the Wahawks. The girls took an instant lead within minutes, holding it throughout the game as the first quarter ended with a score of 21-10. 
The Wahawks held this lead throughout the game with senior Sahara Williams being the point leader for the game, bringing in 22 points. By the end of the second quarter, West was still in the lead with a score of 35-15.
As seniors played on the court of the Bob Siddens gym for the final time, the powerful game ended with a final score of 67-23, the senior girls collecting their 82nd career win.