State Bound: Two Wahawks Qualify
Saturday Feb. 11, the Wahawk boys made their way to Marshalltown for 2022-23 wrestling districts. This year, the top three places for each weight class would continue on to the Wells Fargo Arena in Des Moines, Iowa for the state tournament. 
West wrestled in district #6 alongside Ankeny Centennial, Cedar Falls, Linn-Mar, Marshalltown, Mason City, Waterloo East and Cedar Rapids Xavier. At the end of the tournament, West took 8th place.
Seniors Cooper Paxton and Anell Kudic fought their way to second (Paxton) and third (Kudic) place finishes. Paxton, who wrestles the 145 weight class, will attend the state tournament for the second year in a row. This will be Kudic's first state tournament.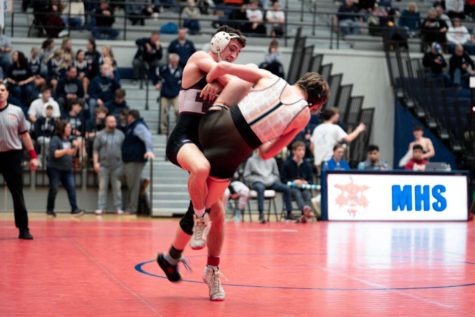 Wrestling a 4-1 day, Paxton lost only to Cedar Falls' Conner Doyle. Paxton defeated Cedar Rapid Xavier's Dane Melchior, Linn Mar's Austin Vandersee and Waterloo East's Ryan Strong for his third place spot. Paxton wrestled in the wrestle back match for a true second place against Marshalltown's Luke Hageman where he won by a forfeit from Marshalltown. 
"It feels good to know that I get the opportunity to wrestle at such a big event again," Paxton says. He claims that since this will be his second year at state, his nerves have cut down as he knows what to expect.
"My mindset for state is the same mindset I've had all year. I'm looking to win and score a lot of points in my matches," he says. This week for Paxton will consist of a lot of extra time in the practice room, pushing his pace more than ever.
With a bye for the first and second rounds of the tournament, Anell Kudic wrestled a 1-2 day. Kudic defeated Ankeny Centennial's Max Dickinson with a pin at 1:23 and Kudic was pinned by Marshalltown's Kunian Kuany, leaving him with a second place spot. In the second place wrestle back match, Kudic lost to Waterloo East's Keeron Haris-Veasley in a 4:34 pin, leaving him with his third place finish.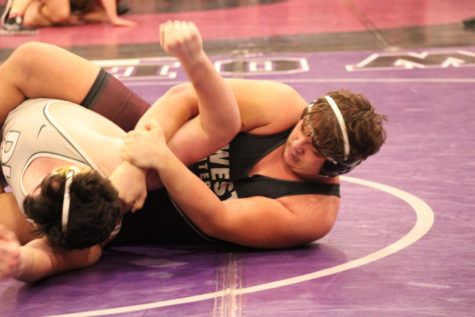 "I wasn't happy, I could have done better, " Kudic says, reflecting on his third place finish at the tournament. "My mindset now is to place and get my revenge match," he says. Kudic plans to get better for the state tournament by improving and working on his moves.
Representing Waterloo alongside Paxton and Kudic are three Trojans. Sophomore Keeron Haris-Veasley (285) made it to state with a second place finish, junior DeMaris Henderson (170) also placed second and sophomore Isaac Lomas (132) gained his spot at state with a third place finish.