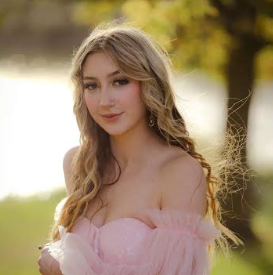 Abby Snyder
Sophia Witte: Why IB Art?
Abby Snyder: I chose to be in IB Visual Arts because I noticed I wasn't being as creatively ambitious as I was in the past and I figured enrolling in this program could potentially spark new inspiration. I was also open to experimenting with new mediums and techniques.
SW: How long have you been artistic?
AS: I've been artistic since I was a child. I started to pick up acrylic painting when I was in fifth grade and since then I've fallen in love with it. 
SW: In IB Art, what has been your biggest challenge? Why?
AS: My biggest challenge has been sticking to a cohesive theme within my exhibition because I wanted to explore multiple styles. In the end, I was able to turn this challenge in my favor and tell a story that each piece played a part in.
SW: How does IB Art compare to other art classes (if applicable)?
AS: In my opinion, IB Art is unlike any other IB class I've taken. There's freedom in creating and the work has no boundaries. Your projects are limitless and they can go as far as you let them. It also appeals to me to know that the curriculum is more personal and less logic-based. Additionally, it's non-traditional in the sense that you can create art from any source of inspiration- a quote, a poem, a book, a photograph of a happy memory, or even a song; and the learning is not limited to what's found in a textbook. The process of creating art for the exhibition felt less like work or an assignment and it's gratifying to be left with something more than a letter grade- to have a memorable experience as well. 
SW: What hopes do you have for your portfolio once submitted to IB? Why?
AS: More than anything, I hope the effort I put in behind my intentions for the body of work is acknowledged. I spent a lot of time curating research, as well as elements and principles of design to illustrate the composition of each piece and tell a story within my work that's significant to my identity. I hope my work can take me far enough to get college credit, but regardless of my score, I'm still very proud of myself for the level of quality I produced.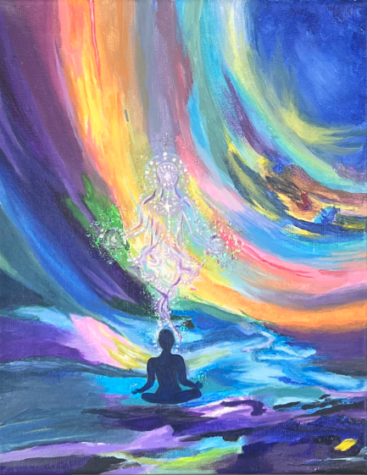 SW: What piece are you most proud of?
AS: The piece I'm most proud of is Meditation. The reason for this is that I've never used such a broad statement of a color palette and I had to experiment with numerous techniques to achieve the blend I was aiming for. The structure of the lines and the movement within the piece truly embodies the cycle of breath and obtaining peace of mind. The actual art-making process was memorable for me in a way I've never felt. I allowed my breathing to follow the brush and that experience enabled a personal connection to the meaning behind my piece.