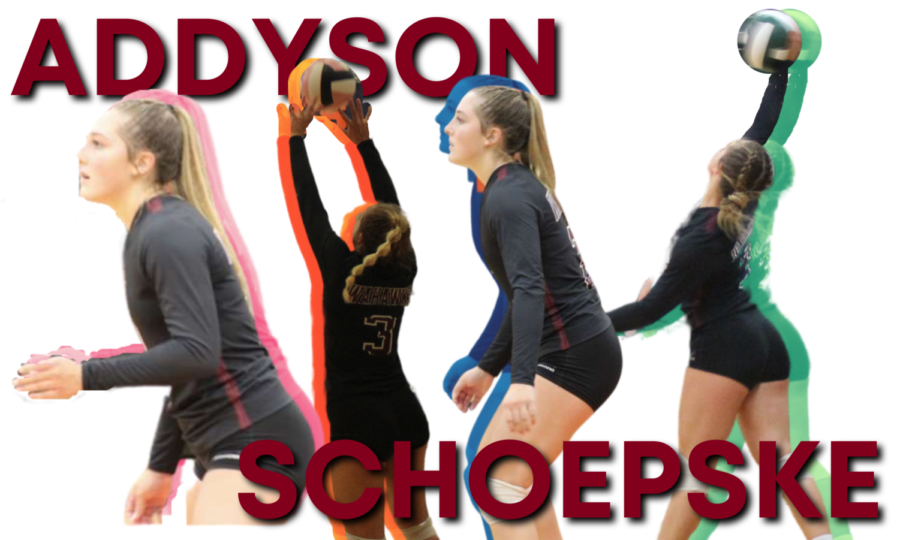 Addyson Schoepske
March 3, 2023
Addy Schoepske, #3
---
Addyson (Addy) Schoepske has been playing volleyball since she was eight years old when she started playing with the 10u Smash volleyball team. Schoepske plays Wave sand volleyball during the summers and currently plays for the Fearless Volleyball Club.
As a freshman this year, she was one of four girls to be brought up to the sophomore team by Mr. Cassidy as he claimed they all played substantial roles for the team. "They all brought great energy and enthusiasm to the team, and Addy Schoepske was perfectly representative of that energy and positivity. Over the course of the season she played both outside hitter and DS, and I'm sure if I asked her to, she would have played any of the other positions as well. Addy always sought feedback and opportunities for growth. There's not an ounce of quit in her, she's first to the floor and gives her all in every practice and game," Cassidy says.
Schoepske believes she earned Cassidys notice because of her work ethic and the idea that she is a great teammate. "I don't like to fail, and I don't give up. I focus on my team as a whole, not just myself because I know it takes the whole team to be successful," she says.
Off the court, Schoepske plays softball for West where she was a starting varsity player as an eighth grader. She takes pride in her 4.0 GPA and believes her academic and athletic success comes from her strong work ethic. When not playing sports or studying, Schoepske enjoys spending time with her family, friends, and puppy Nala. Schoepske also works part time at Fareway.
As her athletic career continues, Schoepske hopes to make it to a state tournament by her senior year. "We have a lot of potential, I will try my hardest to help each and every one of my teammates reach this goal. I know hard work pays off and I will use my don't quit attitude to help us achieve that goal!" Schoepske plans to play volleyball as she leaves high school and goes into college.
As for the goals she has for her future, Schoepske is hoping for a successful career within volleyball and softball, she also plans to continue with her academic success and persist with her 4.0 throughout high school and college in hopes to be a Neurologist.