ChatGPT: Putting AI to the Test
March 31, 2023
Over the past few months, a resourse known as 'ChatGPT' has broken the internet with its ability to write full length essays with the click of a button. To test the power of this site, Wahawk Insider put AI to the test against our reporter, Ali Parkhurst. We gave ChatGPT and Parkhurst the same three prompts to see what they could come up with. Can you tell which one is written by AI? 
ChatGPT is an artificial-intelligence chatbot that launched in November 2022 and is developed by OpenAI. The software allows for anyone to enter a prompt to be given a formatted writing. The writing can range in length from a few sentences to entire essays. Since its creation, the program has utilized the social media platform, TikTok, in order to promote its system to its targeted audience, students.
Heather Wagner, English teacher and English Department Head is concerned with how students have, and will, use AI programs in the classroom environment. There are many students who are aware of the capabilities this technology processes and can use it as a resource. However, Wagner notes "if students are not taught how to use it in an effective and ethical way it could lead to plagiarism and lack of critical thinking skills."
Senior Josian Turner has a love for programming and software like these. However, as a reporter for the Insider, Turner is also aware of the danger this technology could create in educational and journalistic settings. "It is impressive that a program has the ability to create good writing that isn't plagiarized, but it will limit some people's ability to articulate themselves through writing," he shares.
English teacher Kelly McLean also shares her insight on the upcoming ability AI has. "I feel technology advances faster than our morality, and sometimes when people try to take the shortcut they lose out on the journey.  No learning occurs when someone tries to take a shortcut," she says.
How to Identify AI Writing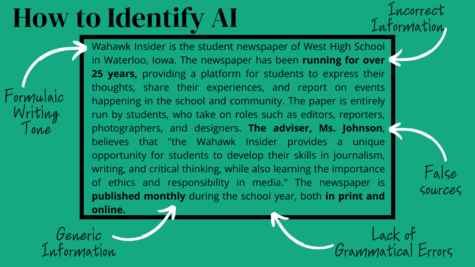 FORMULAIC WRITING TONE AND GENERIC INFORMATION: For starters, the writing may feel robotic, as if it is following a template and just filling in blanks. This can cause the work to become repetitive. In the example above, the 'quote' from the advisor is simply reiterating information that was already stated.
FALSE SOURCES AND INCORRECT INFORMATION: The information AI creates can also be false, for example, the Wahawk Insider was created this school year, not 25 years ago. Our adviser is also Ms. Goodman, not Mrs. Johnson.
LACK OF GRAMMATICAL ERRORS: Finally, AI software's lack the grammatical errors all humans make, most of us are unable to write entire papers without a single grammatical error on the first try, AI does not have this problem.
Time to put your knowledge to the test. Can you identify the AI writing?
---
Prompt: Write a 200 word article about Taylor Swift's Eras tour.
Article One: Taylor Swift's Eras Tour
Taylor Swift is one of the biggest pop stars in the world, and her Eras tour was a testament to her immense popularity and talent. The tour took place over the course of several months and included stops in cities all around the world, including Tokyo, Berlin, and Sydney.
The Eras tour was unique in that it celebrated each of Taylor Swift's past eras, from her country music roots to her more recent pop hits. Fans were treated to a diverse setlist that included songs from albums like "Fearless," "Red," and "1989," as well as newer tracks from "Lover" and "folklore."
One of the standout moments of the tour was when Taylor Swift performed acoustic versions of some of her biggest hits, including "Love Story" and "Shake It Off." These stripped-down renditions showcased her impressive vocal range and allowed fans to appreciate the songs in a new way.
Another highlight of the Eras tour was the production value. Each performance was a visual spectacle, with elaborate sets, costume changes, and special effects. Fans were transported into Taylor Swift's world, and it was clear that no detail was too small.
Overall, the Eras tour was a testament to Taylor Swift's incredible talent, hard work, and dedication to her craft. It was a celebration of her past and present, and a reminder of why she is one of the biggest stars in the music industry today.
---
Article Two: Taylor Swift's Eras Tour
Taylor Swift, a singer-songwriter who has held her fame since the early 2000's, announced her "Eras Tour" on Nov 1, 2022 through Good Morning America as well as on her various social media platforms. Swift described the tour as a "journey through the musical eras of my career" as it is her first concert tour in five years.
In a show that transports fans into the depths of her career, Swift uses outfit changes, strategic sets, lighting and multiple different effects to grasp and hold onto the attention of her audience.
Around the world, fans are preparing for the tours by sharing their extravagant outfits on social media platforms such as TikTok and Instagram. Outfits aim to cover different 'Eras' of her musical career with fans covering outfits that represent different albums Swift has recorded. This has given her fans unlimited creative freedom and has resulted in millions of different outfits that showcase the evolution of Swift's music.
With twenty seven shows covering twenty American cities, Swift started her tour on March 18 in Glendalem Arizona. Alongside Swift, nine opening artists join her to tour the country including Paramore, Beabadadoobee, Phoebe Bridger, girl in red, MUNA, HAIM, GAYLE, Gracie Abrams and OWENN.
Although her tour is covering various states in the US, Swift is yet to release international shows. Her website is promising for these dates to be released soon.
Prompt: Write a 200 word article on the dangers of using AI for educational papers.
Article Three: The Dangers of AI 
While AI has the potential to revolutionize the field of education, there are also several dangers associated with using this technology for educational papers. One of the primary concerns is the potential for plagiarism. Students may be tempted to use AI tools to generate entire papers or portions of papers, leading to academic dishonesty and potentially severe consequences.
Another danger of using AI for educational papers is the risk of errors and inaccuracies. While these tools can help with grammar and spelling, they may not always understand the context or intended meaning of a sentence. This can lead to errors that could significantly impact the quality of the paper and even result in a lower grade.
Additionally, there is the concern that relying too heavily on AI for educational papers could lead to a decrease in critical thinking skills. Students may become overly reliant on these tools, instead of developing their own analytical and writing abilities.
Finally, there is the ethical concern of using AI for educational papers. Some argue that using these tools could be seen as taking shortcuts and not putting in the necessary effort to learn and grow as a student.
In conclusion, while AI can be a useful tool for educational papers, it is important to be aware of the potential dangers and use it in a responsible and ethical manner. Students should be encouraged to develop their own writing and critical thinking skills, rather than relying solely on technology.
---
Article Four: The Dangers of AI 
In recent years, Artificial Intelligence (AI) has grown in popularity at a rapid rate as a tool to forge and create scholarly essays at the touch of a button. Although AI can be a beneficial resource to get yourself going on a paper, relying solely on AI for complete essays can be dangerous.
Plagiarism in any and all senses, is a violation of honors and ethics at most institutions. When quoting a person or resource, you must cite said source in order to acknowledge that the words are not directly coming from you. When using an AI system, it will often create its own information rather than using facts or evidence. This tool will create misinformation in your paper, resulting in inaccurate writing.
AI program ChatGPT has gained a lot of attention in the recent months as it is being boosted on several social media platforms. Though AI can write full length papers within minutes, the information is almost entirely inaccurate.
Rather than using AI systems to write entire papers, some students have used the resource to format papers, help with sentence structure or in order to help create a professional writing style, which are all services that Grammarly or even GoogleDocs provide.
Overall, AI is a tool that can benefit students and teachers in some ways, but can still be harmful to the accuracy of educational writing.
Prompt: Write a 200 word article on Waterloo West high school's spring and summer sports kickoff.
Article Five: West High's Spring Kickoff
West High has recently kicked off the upcoming spring and summer sports. On March 23, the girls golf, girls and boys tennis, girls and boys soccer, girls and boys track and field, as well as softball and baseball teams all gathered in the main gym to get the seasons started.
Athletic kickoffs are a tradition rooted into West High's history. The school puts on events for fall sports, winter sports and spring and summer sports. For fall and winter sports, the dance and cheer teams will perform for the audience as their season continues. Though the spring and summer sports kickoff does not contain performances, they still hold many of West High's best athletes.
With speakers including the Athletic Director Dr. Thomas Ulses, coaches, captains and athletes, the night was filled with information about the upcoming events to finish out the 2022-23 school year. This year, West even welcomed new coaches for girls soccer and baseball.
Containing new faces as well as the ones we have seen for years, the spring and summer sports kickoff was a great start to the upcoming months as West prepares their teams for an exciting season.
---
Article Six: West High's Spring Kickoff
Waterloo West High School's spring and summer sports kickoff is an exciting event that brings together athletes, coaches, and the community. The event is an opportunity to showcase the school's sports programs and promote physical fitness and healthy living.
The kickoff typically includes a range of activities, including scrimmages, skill demonstrations, and interactive games. It's a chance for athletes to show off their skills and for spectators to see what the teams have in store for the upcoming season.
In addition to promoting physical fitness, the spring and summer sports kickoff is also a great way to build community and school spirit. Students, teachers, and community members come together to cheer on the teams and show their support for their school.
The kickoff is also an opportunity to recognize the hard work and dedication of the coaches and athletes. They have been training hard for months, and the event provides a platform for them to showcase their progress and celebrate their achievements.
Overall, the Waterloo West High School's spring and summer sports kickoff is a fun and exciting event that promotes physical fitness, healthy living, and school spirit. It's a great way to bring together the community and support the school's sports programs.
---
Articles Written by AI: One, Three and Six. How many did you guess correctly?