Waterloo Community Schools Welcomes Dr. Jared Smith with Open Arms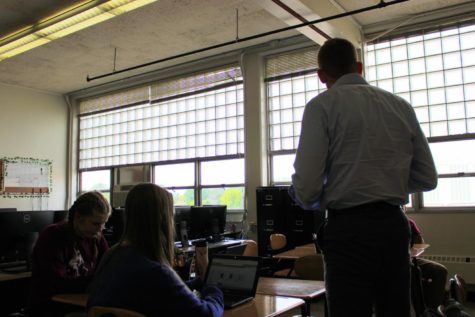 On July 1, 2022, Dr. Jared Smith officially began his new role in the Waterloo Community School District as Superintendent. After graduating from West High in the year 2000, Dr. Smith went on to the University of Northern Iowa to obtain his bachelor's degree in elementary education.
He began his teaching career down in Sarasota County, Florida as a high school math teacher for 3 years. While down in Florida, he was able to obtain his master's degree in administration from the University of South Florida. He received his superintendent endorsement and Ph.D. from Iowa State University in 2017. One thing Dr. Smith has mentioned before is that his parents have always told him to "never back down from learning or a challenge," which is what pushed him so hard to apply for the superintendent position. Dr. Smith has made it known that he believes that it is a duty to give back to others and giving to others is what inspires him.
This past week, the Wahawk Insider staff sat down with him to chat about his vision for the Waterloo Community School District. He also gave tips and tricks for us as new writers because he was a writer on The Spectator staff when he attended West High School. Along with all of these great conversations and tips of advice, we also got to speak with him about the book that he released on July 27, 2021. The title of his book is called Learning Curve and can be found online at Barnes and Noble, Target, Walmart, Amazon, etc.! This book touches base with lessons on leadership, education, and his own personal growth as an educator.
When he came to speak with us, one of the questions he was asked was "What changes do you plan to implement in the Waterloo Community School District?" Dr.  Smith has made it clear that one thing he is trying not to do is come into this district and change everything because he feels that too many new bosses come in and then try to make changes too quickly. He mentioned during the meeting that one thing they are going to start exploring more is the dress code. Check out Ali Parkhurst's article about the current dress code change evaluations! Dr. Smith mentioned that he wants to start getting his face out there more often and show himself more in the community.  Dr. Smith is currently looking for changes that would positively impact all the staff and students of the WCSD.