Lizzy Roberts: Freshman Making Her Way Up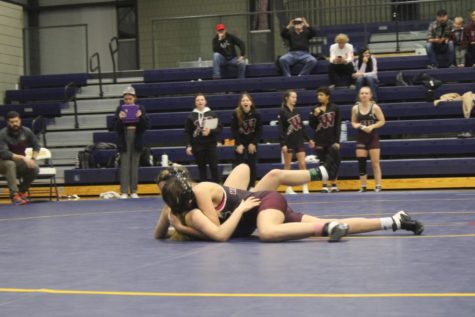 Freshman Lizzy (Elizabeth) Roberts has been wrestling for three years, since she was in seventh grade. She is a part of West High's very first sanctioned girls wrestling team. Roberts competed at the Battle of Waterloo the weekend of Dec. 16th and 17th where she was undefeated in the 125 weight class. 
So far in the season, Roberts has pinned eleven girls overall, more than any other girl on the team. Three of these pins were at the Battle of Waterloo against Sabrina Macke from Dallas Center Grimes, Qendresa Selmani from Benttendorf, and Kennedi Bevands from Independence. 
After such an achievement as a freshman, Roberts said, "It honestly felt so powerful to know I pinned every girl I went up against at BOW [Battle of Waterloo]. I was really amazed and proud of myself." Roberts hopes that with her Battle of Waterloo finish, her skills will stick out to college coaches in the future. For the rest of her freshman season, Roberts is hoping to continue to finish undefeated in more tournaments.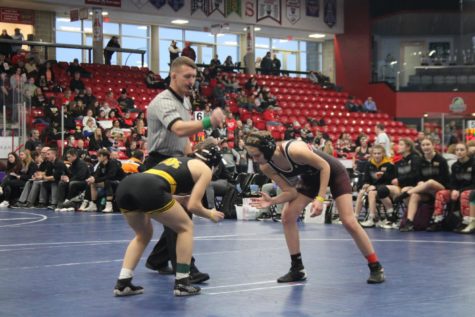 Being a part of the first sanctioned girls team, Roberts said, "I'm really happy to be a part of the first girls' wrestling team at West. I love the environment, the people, and wrestling. It's kinda cool to think I'm helping make history." Though she is making history at West, Roberts says the hardest part of this wrestling season was, "getting over the fear of losing. Because in the end you just go out onto that mat and give it your all."
Roberts' last thought was, " I want to encourage any girl that's interested in wrestling and wants to try it out to go out for it next year. It truly is an amazing sport, the environment is amazing and you get to make a lot of good memories and have a lot of great experiences."