Is Journey Worth the Journey?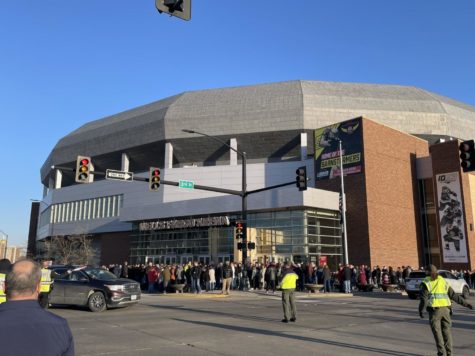 Journey; one of the most renowned rock bands from the 1970's, and is most well known for their hit song "Don't Stop Believin".
Like most bands that have been around for as long as they have, there have been multiple band member changes. Only one member from the original lineup remains, lead guitarist Neal Schon. They have had Arnel Pineda, native to the Philippines, as the main singer since 2007, who's voice sounds almost exactly like the original vocalist, Steve Perry.
The Wells Fargo Arena in Des Moines Iowa took the opportunity to host them for their March 28 concert. Luckily, I had the chance to see them, and even got seats on the floor, which are the seats that are closest to the stage! The arena was flooded with people of varying ages. People packed the seats and were anxious to watch the famous rock bands of all time, Journey play with their brother band, Toto.
After the doors opened, people flooded in. We went to the merchandise stands just to stand in lines that almost reached the wall! I was able to get a poster, a hoodie and two t-shirts, all of which were Journey's 50th anniversary merch. Fortunately, the poster is good quality as well as the shirts and hoodie!
After we finally got out of the merch stand, we headed down to the floor to get our hands marked so we can go to our floor seats.
OPENING ACT: TOTO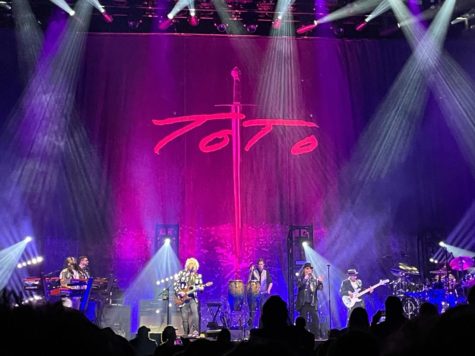 The show started off with the opening act of the band Toto. Their most notorious song is hands down their 1982 classic, "Africa", a song that has kept up its popularity to this day. Toto's line up consists of both the original lead guitarist, Steve Lukather, and lead vocalist Joseph Williams, and had other artists featured. Just recently, Lukather's son and Journey's keyboardist Jonathan Cain's daughter got married.
Toto began the show beautifully. Joseph Williams, one of the founding members of Toto,  has a voice that has continued to be just as pure and strong as it did over forty years ago, especially when they performed "Africa" and "Rosanna". Hearing Williams and Lukather talk about their friendship was pretty heartwarming. It was almost inspiring to hear how they have been there for each other through the thick and thin for almost half of a decade. During a break between songs, both of them talked about their lives together and how they will always be there for one another.
Overall, Toto was definitely worth it, and an awesome introduction for the main act, Journey.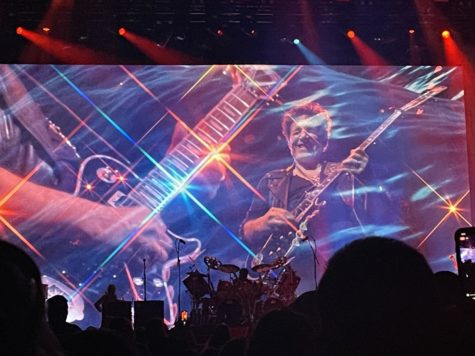 MAIN ACT: JOURNEY
Journey took the stage after Toto performed for about an hour and a half. While the band was getting ready, on the large screen they had a cool CGI animation of the band's logo, a dung beetle. The meaning of the beetle is based off of a scrapped Jimi Hendrix album cover. It had a picture of a scarab beetle, which immediately caught the bands attention and decided it was to be their logo. It was very interesting to watch while the band was setting up.
Finally, they started. You could feel the drumming and the bass in your chests as they played away. Of course, they had to start with a fan favorite song, Don't Stop Believin. The crowd went crazy with people screaming and cheering their hearts out.
Throughout the night, Journey's lead guitarist Schon has tons of solos in each song, and was obviously super into the music he was making.
Personally, Pineda's voice was breathtaking. His voice is practically Steve Perry's, and it felt as if Perry truly was there singing these hit songs. And of course in Pineda's fashion, he jumped and kicked across the stage while singing.
They finished off this concert with an elongated version of the song "Separate Ways". It was probably about seven minutes of riffing and just having fun. At one point during the song, Pineda even ran through the crowd on the floor, and a spotlight was following him. Sadly I didn't get to see him but it was still such a fun way to incorporate the viewers.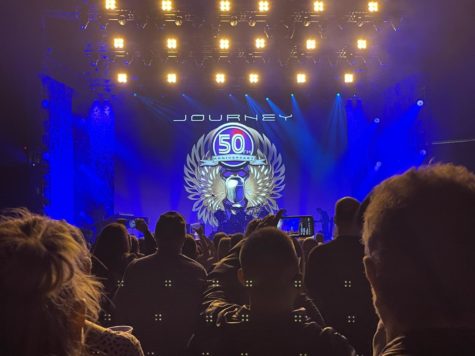 This concert was absolutely spectacular. It was definitely one of the best concerts I've been to yet. Just being able to say I saw was Journey was cool enough in of itself, but being able to say how good it was is even better. If you are a fan of classic rock, I seriously recommend just watching live performances of your favorite artists if you don't have the opportunity to see them live. I am extremely lucky to have seen them live. Overall, Journey was most definitely worth the journey.