Isaiah McDonald Places First at Wartburg Track Meet
On Tuesday, March 21, the Wahawk boys and girls track and field teams traveled to Waverly for the Wartburg invitational track and field meet. During the meet, senior Isaiah McDonald placed an overall first in the open 400 meter race with a 54.38 second time.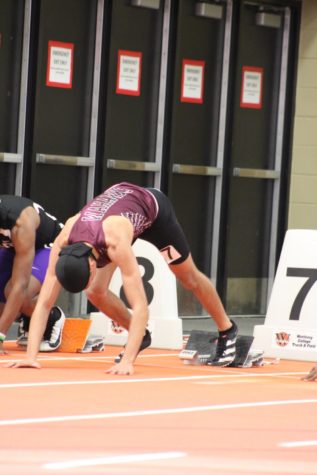 McDonald has been running for West's track team for the past four years, since his freshman year. As he has participated in the sport, he has also experimented with running in the 200 and 800 meter races. Though he has tried different events, McDonald says he prefers to run a 200 meter dash overall, and says he'd rather not have to run an 800 again.
Before each run, McDonald says his natural routine is to jump once and then touch his toes to keep his body warm as he prepares for the race ahead. "Then I just take deep breaths. The hardest part for me is my nerves, but once that gun fires it's all gone and it's just me and the track," he says. McDonald has gotten comfortable with his running ability as he has worked on his technique over the years. 
Crossing the finish line, McDonald said there isn't a feeling comparable to that one. "There is nothing as rewarding as crossing the finish line and not seeing anyone next to you, and knowing your hard work throughout the season is paying off," he says. Though he has won other races before, he says this one felt special because it is still so early in his season. "It just shows that much more is yet to come," he says.
As his last season with the West High track and field team moves forward, McDonald plans to continue with persistent work on his 200 and 400 meter sprints. By the end of this season, he is hoping to get his 200 meter time to be below 22 seconds, and his 400 meter time to be below 51 seconds. His final goal for this year is to place in the top eight runners at the Drake Relays in April and make his way to the state track meet in May.