An Unseen Victory: Rubgy State Championship
On Friday May 12, the Columbus and West High rugby team competed in the Iowa High School Rugby State tournament, hosted at Bondurant Middle School where they went on to be titled state champions for the fourth year in row. 
As West High is not home to its own rugby team, Wahawk athletes interested in the sport merge into one team with Columbus High School. Playing on a team with athletes from another school has been an adjustment for juniors Elijah (Pip) Lemley, Jacob Muller and Branden Bauler. "It was fun learning a whole new set of teammates. You get to know them pretty well and doing something as special as this means a lot after just meeting them a few months ago," Muller says. 
Alongside working with new teammates, Bauler notes how this sport is different compared to the other sports he participates in, "Rugby is a very short, fast paced game. It's unique because of how fast the game is, no other sport I've played is like it. It's also pretty amazing how strong of a bond all of the players and coaches built throughout the season. It's a very special sport." Bauler can be found on the football field during fall, as well as participating in track and field at West.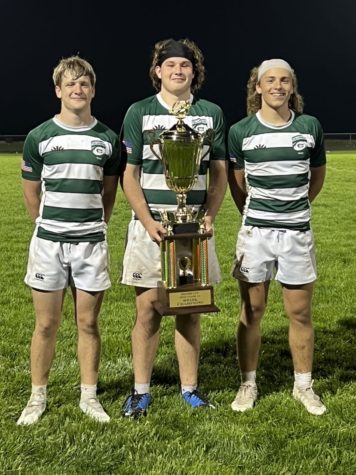 Lemley has been a part of the Columbus rugby team since he was a sophomore, playing alongside his older brother, Aidan Lemley, who was a 2022 graduate. As this is his second state championship, Lemley shares how this achievement will continue to impact his team. "I feel very excited about next season, and this achievement plays into my future goals," he says. Lemley goes on to share that he plans to play rugby at the collegiate level once he graduates high school.
After holding the state trophy for the second time, Lemley talks about how it feels to be a state champion. "At the beginning of the season we made a lot of mistakes but as the season went on we got a lot better. Making it all the way to the championship was one of the best feelings I've ever had," he says. 
During their first season with the Columbus rugby team, Muller and Bauler mention the impact that a state championship had on them. "Most things like this take time to develop, but rugby came pretty easy to me so I am thankful for that. It being my first year and winning a state title is very exciting especially since I know I will get better and so will the team," Muller shares. 
After this victory, Muller notes that he hopes they continue on with the winning streak they have maintained since the 2019 season. Bauler followed up Muller's statement by stating how he did better than he imagined this year, "Winning the state championship is definitely going to motivate me even more for next season. With our 4 year streak, we are all super excited to get back and try to win another one," he says. 
Although he joined the team as a junior, Muller says that the rugby team has had a great impact on him. "What I like about rugby is that it's much more laid back than other sports so it makes it fun," he states. Muller tells us that practices consist of mostly fun, and this sport has taken a stressful year and made it more enjoyable. "It gave me something to look forward to after school," he says
Both Lemley and Bauler speak on how small the team is. "We need more people for next year," Bauler says, "eleven people for a team isn't very many." Lemley continues on to note the size of their team compared to their teams ability, "we had the smallest roster in the whole state and still won the championship," he says