Metro Champions: Wahawk Softball Defeats Cedar Falls
On Thursday June 22, the West High Wahawks faced the Cedar Falls Tigers at the Robinson-Dresser complex, battling for the 2022-23 Metro Championship title. 
After both teams defeated Waterloo East High and Waterloo Columbus Catholic, the two teams went head to head in an intense game in hopes of being undefeated Metro Champions. 
Starting off the game with three runs, the Tigers took a quick lead over the Wahawks as West was unable to score in the first inning. For the next four innings, the two teams would put up their best defense, resulting in both teams failing to score until the sixth inning.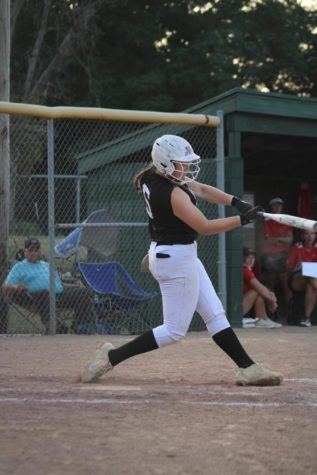 As they reached the top of the sixth inning, the Wahawks were determined to take the lead. Earning her third home run of her junior season, Bailey Schoepske brought in herself as well as her sister, Addyson Schoepske, earning the Wahawks their first two runs. 
Following Schoepske, senior Sydney Wilson gained her third home run of the season, earning the Wahwks two more runs as she and senior Addison Wells made their way home.  Wilson shares that it felt good for her to be able to boost the energy within her team. "This one really meant a lot to my team and that really just boosted everyone's confidence and mood for the rest of the game," said Wilson. Heading into the bottom of the sixth inning, the Wahawks led the Tigers 4-3.
With the energy high, West was determined to keep the Tigers where they were. With an impressive inning from senior Nia Christoffer, the Wahawks managed three fast outs, pushing them into the seventh inning. 
In the top of the seventh inning, senior Jaelyn Martin was able to score another run for the Wahawks after freshman Addyson Schoepske hit a double, sending Martin from first base to home plate.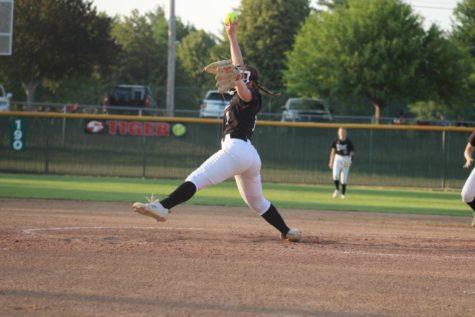 Heading into the bottom of the seventh inning, the pressure was high to keep the lead over the Tigers. With plays at first and second, plus a catch from senior Savannah Ringheden, the Wahawks would get three outs against Cedar Falls before they were able to score, claiming their first victory over the Tigers since 2018.
Senior Nia Christoffer could be seen on the mound for each Metro game of the 2022-23 softball season. "It means a lot to finally be Metro Champs for my senior season, I'm really proud of all of the girls," she says. Christoffer shares that her team set the goal of Metro Champions in the beginning of the season, and have fought to reach this achievement. 
The Wahawks defeated the East High Trojans on June 8 with scores of 13-0 and 11-2. West High took down the Columbus Sailors on June 14 with a final score of 12-2.