Q&A with Ben Frazier
Ben is a Junior at West and has been making big plays on the field.
Q:When did you start playing football?
A: Seventh grade at Central. That was my first time ever putting on pads, so I was scared at first.
Q:What's your biggest takeaway after playing football for West for three years?
A:I definitely met a lot of people that I'm cool with, somebody I can you know reach out to if I don't have anybody else to talk to or people that take care of me like give me rides if I need them and what not so we look out for each other.
Q: How does this new wave of support feel?
A: kind of overwhelming because, I mean, I don't talk to nearly as much people that are giving me support right now. But I really appreciate the support that's going on.
Q: Have you ever felt underrated or underappreciated as a player?
A: Always. You know, at that point, keep your spirits up and show them why they need you on the team.
Q:  What was going through your head when he made the 76-yard touchdown?
A: I was tired. I was really tired. I was just focused on you know, going back out there and getting the next one.
Q:  How has your faith carried you through being a football player?
 A: God has gotten me through a whole bunch of things. I probably wouldn't have been doing as well as I have been without him because I prayed to him before every game.
Q: How did your family react when you made that big play?
A: My mom hollered to the top of her lungs. She loses her voice every time we get to the house and my dad is my dad, so he doesn't really have too much of a reaction, but I know he's proud.
Q:What about your teammates?
A: You know, they love me and they're like focused on getting the next one. I feel like you're doing so well and just keep this up for me because we know what you're capable of and you should just keep on doing.
Q: How did coach Moore react?
A: I've never seen them that excited in my life so you know, obviously I'm doing something right if he's that excited for what I'm doing.
O&A With Korie Frazier
Korie is a teacher at Cunningham Elementary School and one of her son's biggest supporters.
Q: When did you know Ben had a real future in football?
A: His Seventh grade year, he had great kick off returns. He was killing people with his kick off returns.
Q: As a parent, how does it feel seeing all the attention that he's getting?
A: How does it feel? I mean, It feels great as a parent to see him recognized for something as positive rather than something negative.
Q: Because he is a black male in sports, how does it feel knowing that he's probably going to be a role model for younger kids in the community?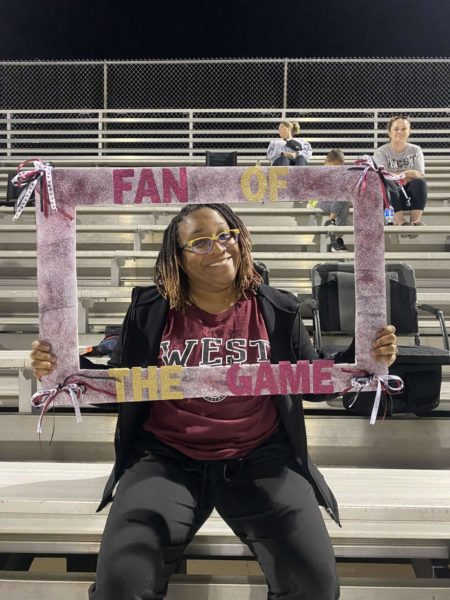 A: It feels really good. But we've always been and I am always, also push academics, we make sure he understands that he is a student first, athletics comes second. So in whatever way that he is going to be a role model, he first has to model being a good student first.
Q: What views or values have you instilled in him that you think have brought him to the person that he is today and the athlete that he is today?
A: It's definitely our faith. He's had a lot of ups and downs, but our faith is what has kept him steady, kept him focused, and kept him moving in the right direction. Along with that love and support, because he knows that we are his biggest cheerleaders, especially his mother's his loudest cheerleader. He knows that whether he wins or he loses, love is not lost between us ever.
Q: Just from looking from the outside in as a parent, what do you think that the future holds for him as a football player or even as a runner?
A: For my son, success, success, everything he touches, he will succeed in as long as he's in the right. Spiritual frame of mind and head space, he can do whatever he wants to do.