Staff Member of the Week: Ms. Alsaihati
On October 3rd, Ms. Alsaihati was announced this week's Staff Member of the Week at West High. Ms. Alsaihati teaches World History as well as Government. Alsaihati has been a teacher for four years, three years of that time has been at West High. Before she was permanently at West, Alsaihati was a long term sub. Most of her time as a sub was spent at West, which pushed her to apply for a full time position. Alsaihati says she loves the environment most about West.
"
Seeing students improve, seeing the light bulb go off in their head makes me feel really good"
— Ms. Alsaihati
Outside of teaching, Alsaihati enjoys baking, watching movies, and traveling with her husband where they love finding "non tourist" food places and trying new foods together.
Alsaihati says her reaction to being staff member of the week was "I thought they would pick someone over me so it was nice to hear." She said that a student informed her that she was nominated but was still shocked to know that she had been selected.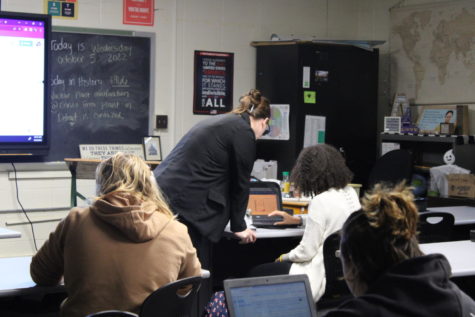 When asked why she thought she was nominated, Alsaihati said, "The student who nominated me loves coming into my room, I feel like I'm her big sister and that is a connection she needs." Alsaihati takes pride in the relationships she has with her students.
Alsaihati's staff member of the week nominator said "She is such a great role model.  She always makes sure I have eaten.  She really does care for her students and does anything she can to make sure they pass.  I don't even have her as my teacher this year and she still makes sure that I am doing ok."  
To nominate a teacher that you believe deserves this recognition, click here to fill out the form.