Dress Code Change Approved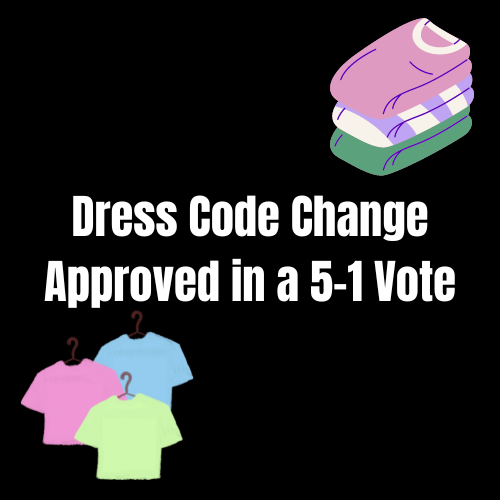 In the beginning of the first semester, the school district sent out a survey to parents, students, and community members asking for opinions and feelings on the current dress code. Many of the responses negatively reflected the dress code. In an interview the Wahawk Insider had with new Superintendent Dr. Jared Smith, Smith shared that out of over 4,500 people surveyed, 87.6% of the results showed that people felt a change needed to be made to the dress code. 78.4% stated they wanted a more relaxed dress code. After surveys were sent out, a committee of staff members, parents, students, and community members, was created to spearhead the discussions and guide the direction of the dress code policy changes.
On Dec. 12th, a new dress code was proposed to the school board. The school board voted 5-1 at the meeting, resulting in the school district adopting a new student dress code. The new dress code will go into effect when students return from winter break, January 3, 2023.
The goal of the new dress code is to allow for students to have more freedom and flexibility with their clothing options. 
Dr. Smith shared that "Not only did we receive 4,500 survey responses, but we are also close to 50 people involved on the Dress Code Committee. I believe this updated policy will best meet the needs of the students and families in the years moving forward." He also shared that he feels good about the process the district has taken to get to this point in the dress code. 
Within the new dress code, students will now be allowed to wear denim jeans that do not have holes or rips above mid thigh and open toed shoes that are not flip flops. The dress code states that students are allowed to wear "Clothing that serves the purpose of privacy" and "Clothing that covers the back, chest, stomach, bottom, and private areas."
Students are still prohibited from wearing slippers/house shoes, flip flops, clothing that displays graphic, illegal, or violent material, any revealing clothing, exposed undergarments, or pajamas/sleepwear.
More information will be coming to parents/guardians through email and reminders will be posted on social media through winter break.