WE CAN'T HEAR YOU: Where Did The Student Section Go?
Just a few months ago, the stands of the Bob Siddens Gym were packed full with screaming students. The student section at West High has been known for showing up to events and packing the stands, no matter what. But the same students that traveled across the state last year to support the girls basketball team at state finals, have suddenly disappeared. 
Since the cross town rivalry East v West game in November, the student section has slowly faded out, leaving only a few rows of students at each game. Though both of our basketball teams are having successful seasons, they are not seeing the student support they used to.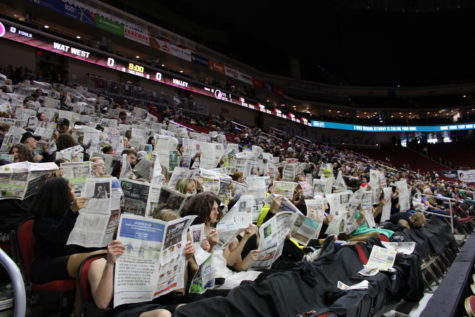 In a school with just under 1700 students, having roughly 20 students, or 1% of the student body attend games leaves a negative impact on our teams, our athletic program and our school.
Junior Talan Nelson, a consistent attender of the basketball games, noted the lack of school spirit within the stands. "Nobody seems to care after the East game, which doesn't really make any sense considering the student section will come back during state," he says. Nelson has attended almost all of the basketball games this year, and stood proudly in the stands throughout the state games last year. 
Nelson says the student section is important, even to the game in general,  "You can see the difference. During the Linn Mar game, their best player only had three points because we [the student section] were in her head so much." 
Nelson encourages students to attend the games with him, "The student section makes the games fun for the athletes, and what else is there to do on a Tuesday night?" 
The students have made the events at West interactive and enjoyable for everyone. From our famous "marching" cheer to the creative chants, we have always supported the athletic programs. With the school spirit dwindling, who is left to cheer our teams all the way to state? Are we really fans if we only show up when they make it all the way?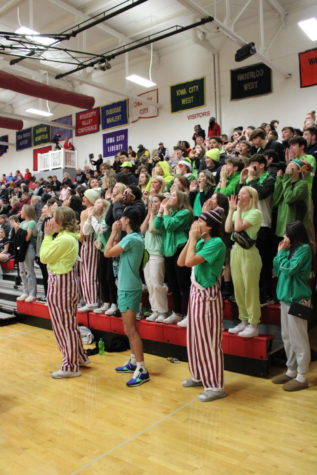 Senior Fletcher Gerrans, a student section leader at West High, also shared his frustration with the lack of student support in the past few months. "I think part of it has to do with people at work or being unable to come due to winter sports, it usually picks up a little when people are done with swimming and what not," he says. Gerrans expressed that he is disappointed with the recent lack of school spirit.
Gerrans believes that the student section brings West together. "Sports are a beautiful thing because they allow for people of a lot of different backgrounds to come together and cheer for a common goal." Gerrans says that with West High's diverse background, the games mean a lot to our school community
Principle Andy Miehe encourages students to continue to show up to support their peers. Miehe shared how important it is for the studnt body to pack the gym for the remainder of our home events before state. "Senior night for wrestling was amazing and we had nearly a full house which really inspired our wrestlers, if we could do the same for our remaining basketball games, both boys and girls, there is no telling how far we can go," he said.
Miehe expressed how unique of an opportunity students have to cheer alongside one another. "Do not miss out on what really is a once in a lifetime opportunity to be a superfan, cheer loud for your Wahawks, and get Siddens gymnasium rockin' – 'Pack the Sid' and see how much fun you can have," he says.
Although the regular season games are coming to an end, there are still chances to support the basketball teams during home games.
If you're proud to be a Wahawk, now is the time to show it.