Conference Champions: Girls Defeat Cedar Falls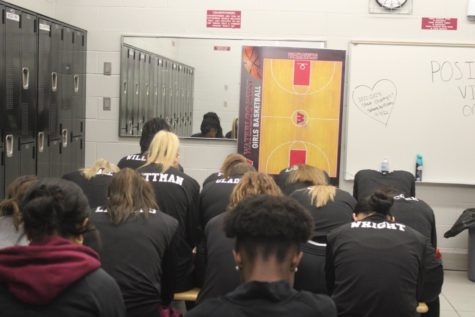 "We want to be outright conference champs. We don't want to share it with anyone this year. You've earned it for the fourth year in a row, let's take care of business," says Assistant Coach AJ Cassidy moments before the Wahawk girls took the court for one of the biggest games of their season.
Friday Feb. 3, the Wahawks took on the Cedar Falls Tigers, ranked eighth in the state, in the last conference game of the season, a game that would make or break their conference champion title.
The back and forth game left spectators on the edge of their seats as the two teams battled for a victory. As Cedar Falls got a head start on the Wahawks, seniors Sahara Williams and Cece Moore gave it their all within the first six minutes, fighting to gain the lead.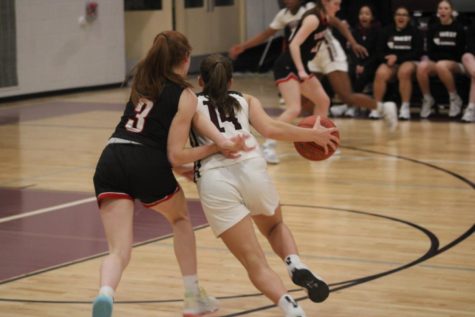 Before the game, coaches made it clear that this was a big game for the Tigers. "Don't let it mean more to them than it does to us," says Cassidy. Though the girls team has defeated the Tigers before, coaches prepared them to be ready for anything. "They're gonna come out throwing everything at you, so we want you to be ready to go," says Head Coach Anthony Pappas.
"There's not many students for you here tonight, it's a shame," says Dr. Pappas, expressing his disappointment in the lack of school spirit. In one of the most important games of their season, the girls were left with less than ten of their peers in the student section. Although there were few students, Pappas encouraged his athletes to give it their all. "We're warriors, it's a sisterhood. When you step across that line, you play for each other, not who's in the stands," he says.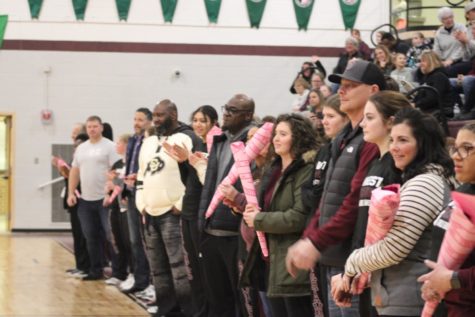 Though the stands were limited, the attending students made sure our girls were cheered on throughout the night. From interacting with the cheerleaders to continuing with student section traditions, the limited students showed up to support our girls in another victory. 
Before the game, the parents of the athletes were honored for putting in the time, money, and effort to get the girls as far as they do. Without the parents, there are no athletes.
In an intense game, the Wahawks pulled off yet another win against Cedar Falls, claiming the conference champion title with a final score of 59-49.