West High's Newest Club: Mental Wellness Alliance
As the newest addition to the clubs and organizations at West High, juniors Belma Ikanovic and Brylee Weber teamed up to create the Mental Wellness Alliance, a group of students who are hoping to shine a light on the mental well-being of the students and staff at West High. 
As their main goal, the students are hoping to make West High a more welcoming environment. "Our goal is to mediate the strain that comes with long days full of classes and extracurriculars. We plan to make a long-lasting difference at West!" Ikanovic states. Within this goal, the club proposed various ideas to Principal Andy Miehe. These ideas included using the courtyard for students to enhance their vitamin D during the day, creating 'break rooms' for students to take necessary breaks throughout the school day and adding murals to the walls to create an engaging and comforting environment within the school. 
Miehe agreed that the idea of the club was positive and came with good intentions, however he believed that some of the ideas were harder to implement than the group had thought. Miehe says that the courtyard is inaccessible due to disruptions in previous years, therefore the privilege was taken away from students. 
Miehe also notes that although a break room could be hard to obtain, there are similar spaces around West for students to relax their minds, including a space in the IMC. Miehe also brought forth the idea of adding a 'cool down' pass to the new E-hallpass program, which would allow for students to take time to relax themselves. 
Miehe states that while murals are a great idea, the creativity may be better used in one of the display cases that change quarterly. These compromises were greatly appreciated by the club members, "Miehe supports our cause and his compromises are realistic for the school as it is right now, but our main goal was to have a more significant impact, and the proposals were our first step to improving the school's environment. While it was a bit disappointing, we are taking steps to work with the solutions he provided us!" states Weber.  
Ikanovic claims that this club was created upon the realization they [Ikanovic and Weber] had on how bad the mental health of students is. "Nearly no one knew about Success Street's therapy program," Ikanovic shared.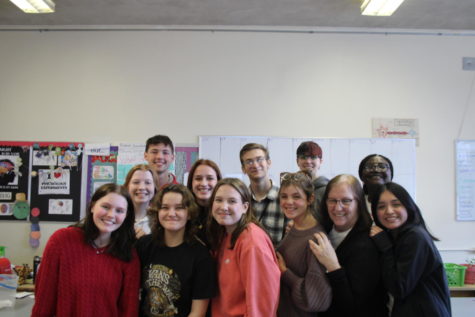 Success Street is a student resource available to all students in the Waterloo Community School District. They offer multiple services ranging from medical needs, adolescent sexual health, drug and alcohol use, relationship and domestic abuse help as well as mental health assistance. Located by the main office and nurse office, Success Street aims to help students as much as they can. 
As of now, only a handful of students are involved in the club. However, all meetings are open for any student or staff to attend. Held in room 213 with Ms. Knight the last day of each week after school. The club consists of four teams ranging from graphic design, communications, marketing and fundraising.  
Kellie Knight, a psychology, sociology, and government teacher shares in an email, "MENTAL WELLNESS IS ESSENTIAL IN LEARNING, STUDENTS AND STAFF NEED TO HAVE HEALTHY COPING SKILLS.  MWA (MENTAL WELLNESS ASSOCIATION CLUB) WILL HELP EVERYONE IN THE SCHOOL BECOME AWARE OF HEALTHY SKILLS AND HOPEFULLY USE THOSE SKILLS FOR THE REST OF THEIR LIVES!" Knight supervises the MWA club and is a large mental health activist within West High.
In the next school year, the MWA is hoping to continue to raise money with a variety of fundraisers, spread awareness on the mental health resources that are available at West, raise money for mental health organizations and make sure the MWA stays a part of the West High clubs and organizations list for future years. 
For right now, the club is raising money by selling stickers. These stickers can be purchased from any group member. The proceeds from this fundraiser will go towards Success Street and future projects the MWA has planned for West High. Moving forward with fundraisers, the group shares that they are hoping to be able to sell t-shirts within the upcoming school year. 
For more information on joining the Mental Wellness Alliance, check out their Instagram, @wahawk.mwa or reach out to Ikanovic ([email protected]) or Weber ([email protected]).