Lucy Prescott: Concert Crazy
Lucy Prescott has lived her entire life surrounded by music. From being a young child exposed to live music for the first time at a Winery in Ames to attending 10 concerts in one year as a teenager, wherever Prescott goes, music always follows. Prescott's best friend, Scarlett Bertram says, "Lucy's love for music is thrilling and intoxicating. I've never seen someone so willing to spend their bank account in an instant. She is absolutely in love with music, and it's so much fun to be around."
Prescott describes Bertram as her "fan girl best friend", her favorite person to bring to concerts. To Bertram, this nickname is shared. The girls both love the same artists and often obsess over their every move. Together, the girls have attended three concerts, Harry Styles, Beach House and 5 Seconds of Summer. Bertram also plans to attend an Ashe concert with Prescott in the upcoming spring. 
Within a year, Prescott attended ten concerts, crossing nine of her favorite artists off her bucket list. Her future goals for live music is to see Niall Horan, Taylor Swift, and Inhaler in concert. Within the next year, Prescott hopes to attend Inhaler in March of 2023 and is planning to attend an Ashe concert in April of 2023. 
Prescott often experiences a phenomenon known as 'post-concert depression'. She explains this feeling as "You just feel a little empty because you've been waiting for this for so long and then it's over in a couple hours, just like that." Bertram follows up on this with "Before [a concert] she is simply elated, you can never actually put into words how excited you are before a concert and Lucy is a great example of that. After she is usually sad and mopey, often crying, but she gets over it pretty well seeing as though she usually has another concert to look forward to."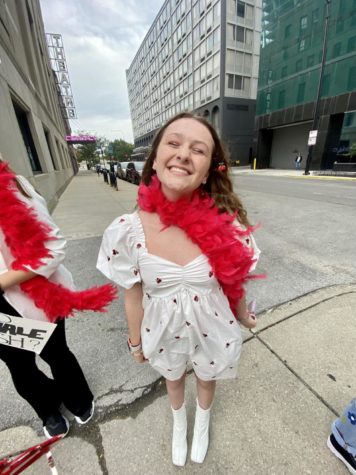 The love Prescott has for fashion plays into her concert obsession when it comes to finding the perfect outfit for the occasion. Prescott says that she scrolls through Tik Toks to look at what other people wore to the same concerts in order to "fit the vibe of the concert." Her favorite concert outfit so far was what she wore to her second Harry Styles concert. When she saw Love On Tour at the United Center in Chicago, she wore a cherry dress, a red boa, and white boots. She also wore a cherry clip and cherry earrings to represent Styles' song "Cherry".
Out of every concert Prescott has attended, it is no surprise that her favorite was the Harry Styles Love on Tour concert that she attended in November of 2021. "It was the excitement I had just waiting for him, the first time ever seeing him get on stage, I had so much fun dancing" On the other hand, she says her least favorite concert was Olivia Rodrigo's Sour Tour. Prescott claimed that she was disappointed in the lack of screens and overpopulated venue.
"
To describe my music taste in one word, I would say chaotic. I listen to a lot of different music. Sad, happy, bluegrass, pop, rap, it's all over the place. I love it all. "
— Lucy Prescott
While it seems unlikely, Prescott has not completely drained her bank account on concert tickets. Prescott shares that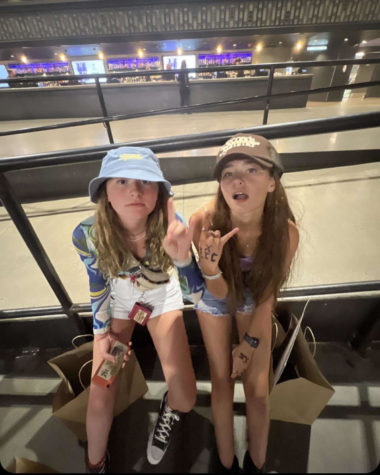 most of her concert tickets have been gifts and she has only spent around $595 of her own money. Artist merchandise on the other hand… that's a different story.  Prescott even admitted to saying that if someone would have told her she would be this obsessed with music five years ago she would have told them they were crazy and there was no way she could afford that. 
Where Prescott goes, music always follows her. Music has taken over Prescott's life in more ways than one. Not only does it take up a majority of her mind on a daily basis, but she finds ways to bring it into everyday conversations. She loves bringing up when artists are dropping new albums, when her next concert is, and what merchandise is coming out this week. Prescott even admitted to thinking more about music than the topic of a class and even tests.
Though it was hard for her to narrow down her crazy her taste, Prescott shares top five songs currently as Cherry by Harry Styles, Close Your Eyes by The Backseat Lovers, Satellite by Harry Styles, Champagne Problems by Taylor Swift, and My Honest face by Inhaler. Prescotts' favorite artist right now is, of course, Harry Styles. 
While it might be all she talks about, it is safe to say that Prescott has found her home and future within music. Her love for concerts, music, and her favorite artists radiates wherever she goes and is enjoyed by the people surrounding her. You can almost always count on Prescott to have her airpods in listening to her favorite playlists.