Using IXL to Help Students Prepare for ISASP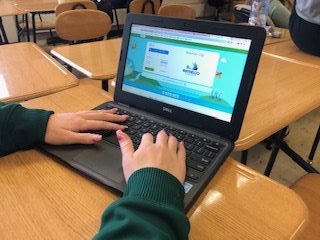 Over the course of years, students have been using different sources of testing. As ISAP has become one of the biggest ones, ISASP stands for Iowa Statewide Assessment of Student Programs. Now we have many sources to help us become more powerful and ready for ISASP, as students are now able to use a website called IXL.
IXL is used for extra help to ensure children know harder topics to become more prepared for the upcoming ISASP. This is then able to give students and parents a good overview of what their own student at West High is learning about, and how they can help their child in different ways. IXL is then also able to show the West High Students different ways on how they need to make sure that they can focus and be very successful when it comes time for the ISASP days.
As ISASP can become stressful, students want to make sure to show how much they have accomplished over the whole school year. This may make the students here at West feel more accomplished and want to take more time to work on things during the next school year. This could even lead to students taking more and more to show their own parents how good they are doing throughout the whole school year. This gives such a good goal and outlook for students here at West High.
Over a couple of weeks at West High, students have been taking the time to use the IXL website. During the school day, students shared their opinions on what IXL means to them and how IXL can or cannot help them and other students around. A 9th-grade student here at West High stated "IXL prepares you for ISAP, and it is decent but could be better.", another student here at West says "It is a decent learning program".
Principal Andy Miehe shared his thoughts on IXL, Miehe responds with " Students using it is great to have a better opportunity to help the kids find better ways to explore". He then also stated why ISASP is important and why students have to do these types of things, responding with " I want our school to show our community how well we are able to work".
Overall, ISASP is a testing program that all students in the state partake in with it, we are able to test each other's abilities about things that we may or may not need to work on over the learning here at this school. Teachers here at West encourage students to use IXL to help prepare. Teachers give this option to do when students have no more work to do and or catch up on, during seminars, and after school hours. As the teacher may be bugging the students about it they are just trying to make sure students become more and more prepared for ISAP as some of it can be pretty tough. IXL is a good learning source for all to help us become better at things that need to be worked on, this will show the whole community how we students are West.