Ian Sabanagic: State Swimming
During the 2023 IHSAA State Swim Meet from February 10-11th, senior Ian Sabanagic was the sole representative for West High. To qualify for the state swim meet, swimmers must be one of the top 32 statewide. Sabanagic qualified for the 50 yard freestyle ranking 29th place with a time of 22.57 seconds.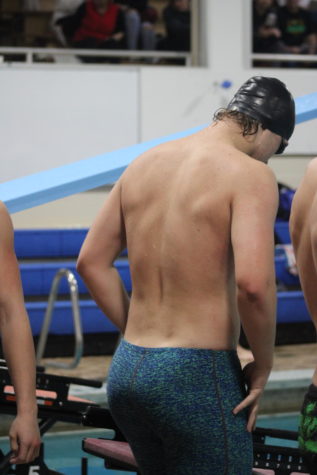 While reflecting on the state experience, Sabanagic said "State was intense, the prep after making it to State was focused on my weak points to shave off hundredths of a second to go even faster than my personal best at Districts, the bad part though is that I had only four days to do so which limited the amount of work I could have done. Still, the day came and the atmosphere was insane, the entirety of the University of Iowa's stands were overflowing with people and cameras."
Although his event was the third one of the day, Sabanagic only had roughly 30 minutes to get in the zone. "I had so much adrenaline that when the announcer called us up to start my heat, I almost falsely started by twitching on the block but the buzzer went off and 22.37 seconds later, it was over," Sabanagic says. What took minutes to prepare for, was over within seconds. "It was a personal best by another .2 seconds but, sadly, it was not enough to make it to the next day. My final placement for the meet was 24th place. I beat five other guys at State and got a personal best, I was pleased with the final event of my swimming career," said Sabanagic.
As a senior, Sabanagic knows that this is his last year of being on the swim team. When discussing his feelings about being on the swim team throughout the years, Sabanagic said "swim has had many ups and downs but they are all due to personal performance. The team itself has always been positive and outgoing. This sport is possibly the best sport to get super close with my friends and to go through the struggle of swim practice every day and then to succeed together, it is just an amazing feeling."
"It feels saddening, obviously due to me probably never entering a pool for competition again but, for my final year, I did amazing and achieved the goal that my freshman self wanted me to do. It is going to suck but we have to enjoy the moment and the success, now I will focus on bringing that vibe and effort into my other sports such as soccer and baseball," explains Sabanagic.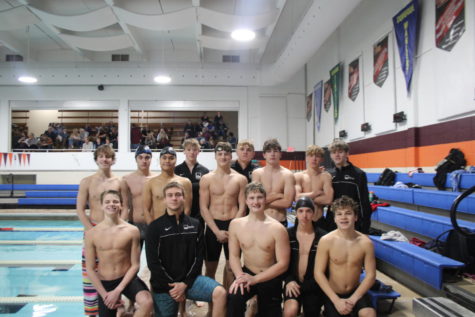 When sharing his hopes for the future of the team, Sabanagic said "I hope that the team stays strong and that more people go out for it because it truly is fun and an amazing sport to participate in, but due to the stereotypes of what swimming is, many veer away from it. I just hope the team strives and the traditions and memories that can be created throughout the year can be shown to other individuals that join the team. My biggest hope is to see videos of the Speedo run happening for years to come because that is a tradition that was in this school all the way back from the 70's."
For Sabanagic, the swim team experience has changed throughout the years. "When I was a freshman, there were over 25 kids on the team. This year there are less than ten and, to keep all of these traditions and vibes alive, that number needs to increase," Sabanagic said.
While the number of members has changed, the biggest difference is tied in with ageing. Reflecting on his time on the swim team, Sabanagic said "as a freshman, I was there to enjoy the presence of the older guys messing around and doing funny stuff and doing funny stuff and laughing my head off. As the years go by, I am the senior now, I have to do those funny things and set the vibe. It is a different feeling going from being the person that laughs at the stupidity to being the one creating it."